July 31st, 2021
Just letting you know that my old blogspot has been closed quite some time ago, due to the provider closing down. I am now blogging on my own website at www.monikashep.ca. This is where my original artwork is available for sale. I am still using FAA (aka Pixels) for selling prints and other fabulous merchandise. Please come and subscribe to my new website. I have posted the link. Thank you!
July 19th, 2012
Check out my blog for the answer to this interesting question.
The results were taken from 500 visitors to my recent Art Exhibition & Sale.
http://monikadickson.blogspot.ca/2012/07/unionville-markham-art-exhibition-sale.html
June 22nd, 2012
see www.monikadickson.blogspot.com.

August 20th, 2010
http://monikadickson.blogspot.com/

Please click on the link (copy and paste) to go to my new Blog page.
This website at FAA does not support links unfortunately.
May 22nd, 2010
I am very pleased to announce that my painting called "Markham Theatre" has been given "Honourable Mention" award at a juried show, the 2010 Mayor's Art Showcase in Markham, Ontario. It was held in May and apparently the jury had such a difficult time selecting, and so the top 6 winners were given Honourable Mention ribbons instead of the usual first, second or third. This is wonderful news for me and I was also honoured to meet the mayor in person. Pictures will be in the local Snap newspaper in the June edition.
May 11th, 2010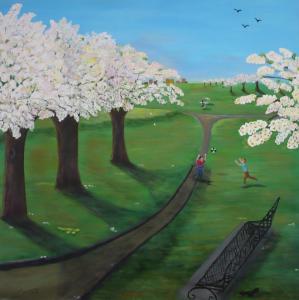 Finished this acrylic painting on canvas, called "Cherry Blossoms". I've been told that it's a very relaxing painting, where you can imagine strolling through the park, and perhaps resting on the bench, while enjoying the last warmth of the sun setting for the day.

Now getting my paintings ready to enter for the Mayor's Art Showcase to be held next week (May 17-22, 2010) at the Civic Centre in Markham. Call or email me for more details. I would love to meet you, and will be there on Tuesday, May 18 from 1 - 2 pm.
April 16th, 2010
I am re-quoting an article that I read regarding the arts. Let me know if you agree also!

"No Renaissance can occur without building its foundation upon the arts. Art is not entertainment or just a business. Art is a way of finding the true meaning of the human spirit. A comprehensive understanding and appreciation of art, in its most profound manifestation...aesthetic, religious, cosmic...defined every great civilization of the past and without it there will be no great civilization of the future.

For America to experience its Renaissance, it is incumbent upon everyone to do what they can within their means. For the wealthy, buy from and support living artists for the value of how the work hits the heart, not for its eventual resale value. For everyone else, give a holiday, birthday, wedding, graduation gift that is artisan made, not manufactured in an offshore factory. And when buying for children, give gifts that will further their creative talents in arts and crafts rather than occupy their minds with disposable toys and electronic games."

from The Trends Journal, Autumn 2009